For a long time, Chef Peter Sclafani, Executive Chef and Co-Owner of Ruffino's Restaurants, had this quote by Chef Thomas Keller on his mind. And finally, Chef Peter can call this dream a reality.
After over a year in the making, Xdesign is excited to announce the release of Chef's debut cookbook, Seasons of Louisiana.
Many people joke that Louisiana only has two seasons; however, Chef Peter begs to differ. Though Louisiana's weather may not be the draw of the south, there is no debate that our food is the draw. When it comes to a meal, the "seasons" of Louisiana are plentiful. When you think about it, nothing says it is football season like a pot of jambalaya. Nothing screams crawfish season like a roaring pot boiling with friends and family gathered in the backyard…and there is nothing like a cold batch of marinated crab claws to refresh your soul on a hot summer day.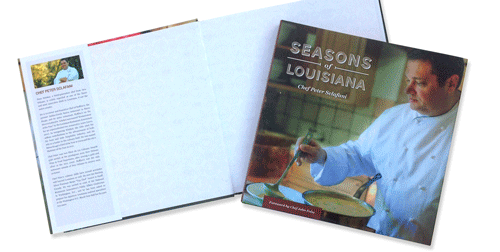 The creative process began in late 2012, when Chef Peter was ready to tackle his dream with the help of the Xdesign team. In December 2012, after months of planning and draft designs, Xdesign teamed up with local photographers Collin Richie and Frank McMains, for the first of many photo shoots. After several months of design, revisions, writing, and proofing, Seasons of Louisiana is now complete and one of Chef Peter's greatest accomplishments.
Cookbooks are available now at Barnes and Noble, Amazon, ShopRuffinos.com, and both Ruffino's locations.
"The Xdesign team was such a large part of creating this book. They helped put my words on paper and pushed me to make this dream a reality. Thanks for designing such a beautiful book and art directing the photo shoots which both far exceeded my expectations."
Congratulations to Chef Peter for fulfilling a dream 20 years in the making. Xdesign is proud to be a part of it.
Do you have a dream project? That one idea or project that is so big or so great that it scares you? Let us help you make that dream a reality.